Omni-directional heavy-load AGV project Awarded the 19th China International Hi-Tech Fair Excellent Product Award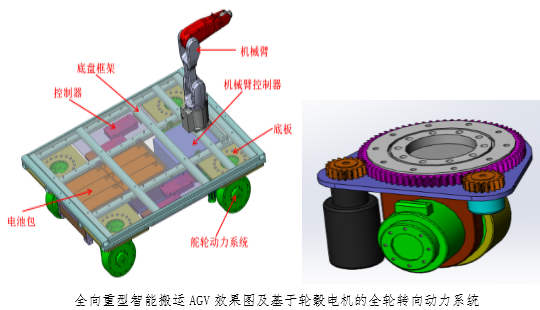 Overview:
Aiming at the problem of moving inconvenience and small working range in industrial robot, we develop this AGV, an Omni-directional heavy-load intelligent handling system based on in-wheel motors, which provides a highly stability and low-cost transportation solution for many industries such as warehousing and manufacturing.
Omni-directional intelligent handling robot electric automation chassis, can not only carry different types of industrial robots, intelligent positioning and autonomous driving, but also do all-wheel 360 ° steering where it is.
The project makes full use of the technological advantages accumulated in the development of new energy vehicles to achieve a new breakthrough in the research and development of high-efficiency, low-cost and feature-rich Omni-directional intelligent handling AGVs, and helps promote the use of industrial robots in logistics and other industries.

Category:China International Hi-Tech Fair Product Award
Award-winning Rating:Excellent
Authorize Department:China International Hi-Tech Fair
Date: 2017-12-04